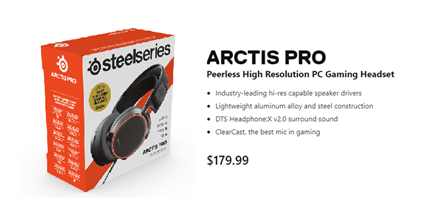 Happy Holidays Pegasus Command!
The December Grand Prize Giveaway this year will be for a gaming headset / or a gift card in the amount of the headset to be used by the winner at their own discretion.
There will be a second prize giveaway that will be for a 128 GB M.2 Series SSD that was donated by our retired member Danny White. (This prize will be sent to the winner, there is no cash equivalent for this prize).
Rules:
1. Any Pegasus Command member who joined the guild prior to Dec 1, 2022, is eligible to earn entries for the contest.
2. The winner will get a gift card which will cover the purchase of the headset. If the winner wants something else, they may use that gift card as they choose, which will be in the amount of the stated prize, in US currency.
3. A winner will be picked at random by the President on January 2, 2023 from all earned entries by eligible members. All entries will be put in a hat from which the winner will be drawn. The grand prize winner will be drawn first, and the second prize will be drawn second.
4. You do not have to be present to win the drawing, however you do need to be a member in good standing at the time of the drawing. Entries are not transferrable between members. Any members that have left the guild prior to the drawing will forfeit their entries in the drawing.
5. Entries may be earned the following ways:
a. Any scheduled op attended for an official peg com game will earn a member 10 entries. You must attend the op for the duration of the op or for at least one hour.
b. Commander Calls in each game will count as 5 entries for attendance of no less than one hour.
c. Special holiday events hosted by each game will count for 15 entries for all eligible members. Each game will have at least one special op for December, and may have up to 3 special ops for the December Giveaway.
d. The Game Commanders for each game will have 20 entries that they may give away as prizes at their discretion for in game contests.
e. Attending Movie Night, Peg Com DnD, or Karaoke will count for 5 entries per attended occurrence.
f. Attendance at Special December Guild Wide Events will earn 20 entries per event.
g. Special guild wide event postings or contests (ie, pictures, decorations, trees, etc) will earn 3 entries for each member that posts and is limited to one posting per room/event/contest (multiple postings are allowed however only the first posting will be eligible for earned entries).
6. There is no limit to the number of entries you can earn, and you are welcome to attend any op or cc in any game, even if it is your first time attending an op or cc in that game.
7. All disputes should be brought to the attention of the president and if the president's deemed resolution does not bring closure it may be appealed to the Peg Com Judicial System.
Look for postings in your games for special game specific events throughout the month. In addition, keep an eye out for Pegasus Command Announcements of Guild Wide Events and Picture sharing! Good Luck to all!