Here's my "standard" Tyrant destroyer build.
Ship Name: Tyrant T14
Class: Destroyer
Role: Suppressor Class
ENG: NA
CAP: Capacity Power Relay 17 (lvl 4), Capacity Power Relay 17 (lvl 4)
SHD: Asynchronous Shield Projector 17 (lvl 4), Auxiliary Shield Projector 17 (lvl 4), Shield Splitter 17 (lvl 4)
HUL: Lightweight Hull 17 (lvl 4)
CPU: Enhanced Scanner 17 (lvl 4), 'Horizon Module' 17 (lvl 4), Electronic Guidance 17 (lvl 4)
Active Mods: 'Tempest' Launcher 17 (lvl 4), Pyro Emitter 17 (lvl 4), Plasma Turret 17 (lvl 4), Blaster Turret 17 (lvl 4)
Weapon: Meson Cannon 17 (lvl 4)
Missile Slot: Static Shield 17
Special Module: Jericho Energy Router
Build Narrative: This is my "tank and spank" build. I'm big, slow, and draw a lot of fire. It's almost exclusively my "go-to" ship for Skirmishes and higher-level Missions. If you've run with me, you've likely seen it in action.
I use the energy router for a 20% boost to speed until I get to combat, then switch to restoring 400 points of shield per second. This destroyer has fairly good suitability, and good firepower. I engagy enemies with the Meson Cannons at range, then use the Tempest Launcher to attack entire swarms of PvE fighters when they get close to 5000m. I toggle on the the auto-guns when they reach 4000m or so, and continue working them down with the Meson cannons to finish them off when they get in close. I know a lot of folks don't like the Meson Cannons, I but I find them good on light fighters, etc.
With the Horizon and Electronic Guidance modules I get additional range and reduced spread (which can get crazy w/ the Meson cannons). I also use the "Flat Reflector" special ammo to get an additional 15% range buff to my cannons. This lets me engage targets at like 8600m or so.
A side note on the Tempest launcher. It fires 20 missiles, but only 2 will lock onto a target. So basically a swarm of 10 bad guys will each get 2 missiles fired their way. BUT... this doesn't mean it's useless on single target items. The missiles may not LOCK onto targets, but they will fire and fly straight. So you roll up on that Nav station, Main Turrets, Cruiser, etc that you need to kill, line up on that bad boy and pop-off the Tempest, and BAM! 20 missiles into the target. :)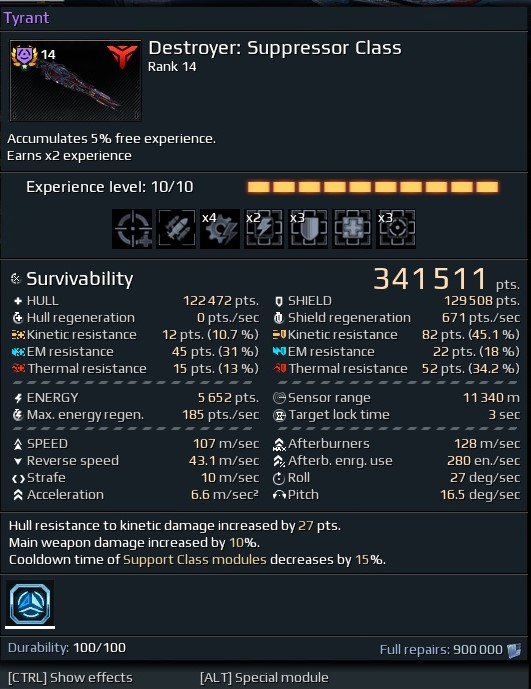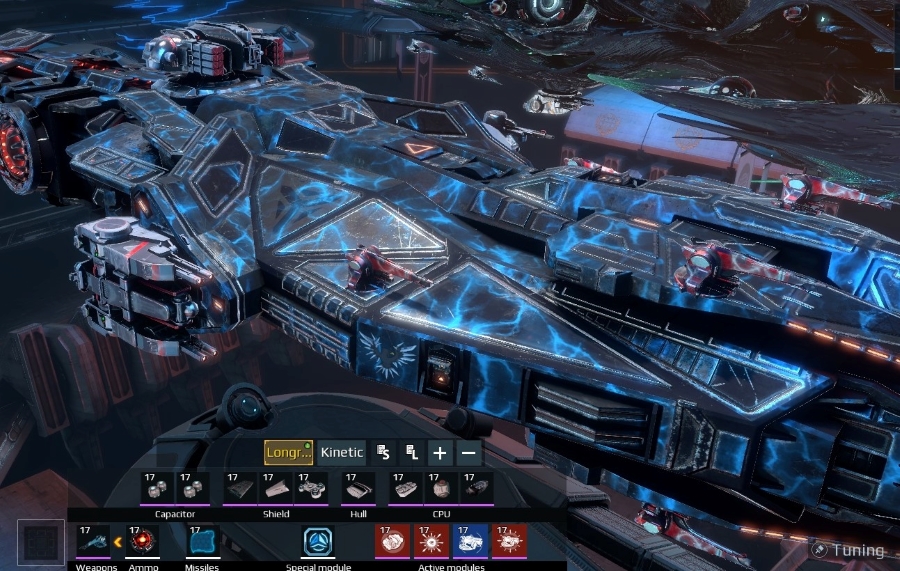 ---------------------------
"ΜΟΛΩΝ ΛΑΒΕ!"