Overview:
With her amazing mobility, burst, and lane presence, Leblanc is an incredibly strong pick that will leave your opponents with little reaction time and even less health. In this guide, I will attempt to share every last bit of info I know on Leblanc and her playstyle. Now, let's look at the advantages and disadvantages to playing this champion.

Pros:
-Incredible early trades (You can kill the enemy laner at an early level)
-Hard to play against
-High mobility (You can roam easily and escape from situations easily)
-Pretty decent crowd control
-Mind games that will frustrate the enemy
-High skill cap
-Scales decently well
Cons:
-You have to get somewhat close to people in order to damage them, as with most assassins
-Point and click crowd control will stop her from getting damage off in teamfights (Malzahar, Lissandra, Annie)
-Doesn't do well against tanks (as with most assassins)
-You can usually only focus one enemy at a time during teamfights
-Doesn't have a "Real" ultimate ability

Runes: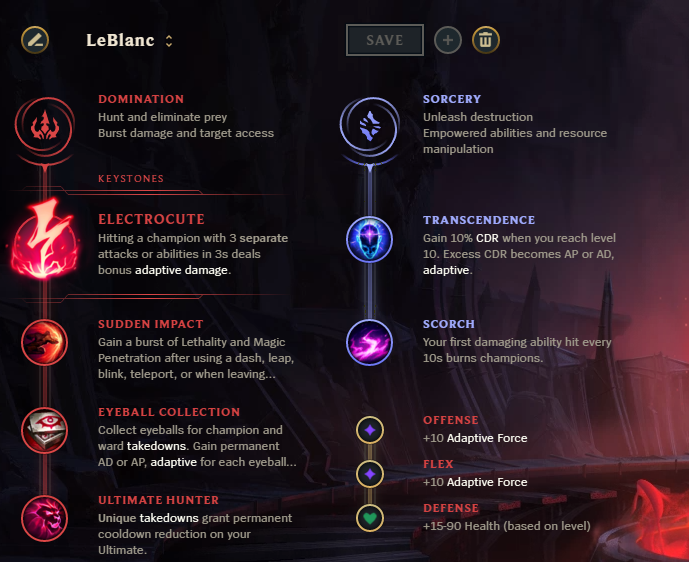 This is what I normally take on Leblanc. However, her runes are flexible.

Electrocute: This is the bread and butter of your early trading. I'd say if anything, this and sudden impact are a must have.
Sudden impact: This works incredibly well with Leblanc's dash.
Eyeball collection: I prefer this because it helps you snowball if you get fed from kills.
Ultimate hunter: I know what you're thinking. "Why should I take Ultimate Hunter if my ultimate is already on a low cooldown??" Well, that's because your ultimate is very important in terms of damage and mobility. Whether or not your ultimate is up can determine whether you escape from a situation alive, or whether you kill an enemy, especially on this champion.
Transcendence: This is important currently because of the nerfs to leblanc's w cooldown. You need all the cooldown reduction you can get.
Scorch: I like this for early trades, but you may prefer Gathering Storm for better scaling.
Adaptive force: Everyone loves having more damage.
Note: I have also seen a good amount of people take inspiration secondary.

Abilities:
Q: Point and click. You place a mark on someone. Any of your other abilities will trigger the mark, dealing more damage. Be sure to keep in mind that the second part of your e will also trigger the mark, meaning you can e and if you q fast enough and stay attached, the mark will trigger.
W: Probably the most important ability. You dash, and deal a good amount of damage at the place you land. If you press the key again you go back to the place you started.
E: A weird skillshot that if landed, attaches a chain to someone that slows them. If the chain remains attached (basically, if you stay close to the enemy), you root the enemy. Remember, the enemy can still attack or use abilities while rooted, just not mobility spells.
R: This ability repeats the ability you used before it. For example, if you just dashed, you'll dash again.

Passive:
If your health drops below a certain amount, you will turn invisible briefly and spawn a clone that will pretend to auto attack things. You can control the clone, but it deals no damage, and after a bit it will die dramatically.

Combos:
W+Auto
A level 1 poke combo that is very hard to react to.
Auto+W+Auto
With this combo, you can prock electrocute level 1.
Q+W+Auto
The level 2 combo that deals a bit too much damage.
W+E+Q (E)
It is possible to disguise your E inside of your W. I will talk about this later.
Q+W+E
A bit trickier to pull off since your opponent has time to react
Q+R+W
The infamous "one shot" combo. A bit tricky to pull off, since you have to be close.
W+R+Q+E (or W+R+E+Q (E))
I call this the "double stompy". One of my favorite combos, because it has a good escape. Bonus points if you land the first W as well.
E+R+Q+W
If you delay the R a bit, you can root your opponent for quite some time.
Build:
Corrupting Potion start: Very good if you know to use it before trades. I currently use this start. You will not lose nearly any trade with it.
Dark Seal start: Good for snowballing + sustain. You can even upgrade to a mejai's soulstealer if you get fed enough.
Doran's Ring start: Kinda boring, but it works I guess.
The normal LB build:
Luden's echo, Boots of sorcery, Morellonomicon, Rabadon's Deathcap, Zhonyas Hourglass, Void Staff
This is probably your safest build. Feel free to swap Morellonomicon with the Hourglass if you're up against a Zed, or you just want that invulnerability.
The spicy LB build:
Luden's echo, Boots of sorcery, Rabadon's Deathcap, Mejai's soulstealer, Void staff, Morellonomicon
This is if you get very fed and want to make the enemy team wish they were never born.
The "Korean" LB build:
Luden's echo, Boots of sorcery, Hextech gunblade, Lich Bane, Rabadon's Deathcap, Void staff.
Probably my favorite build. Now this is just evil. Keep in mind you have to be ahead for it to work properly. Abuse the gunblade by using it when enemies are running away, or sneak it into one of your combos and watch the enemy laner literally disappear. This build also includes an optional lich bane, so you can push towers or just auto for extra damage to enemies.

Mechanics:
Here's the fun part.
There are a lot of neat things you can do with your chain (E) that opponents won't expect.

Chain + Flash
If you aim the chain at a place and then flash, the chain will still go towards the original place.

Chain + W
If you W immediately after the E, your E will be disguised by your W.


Long chains
If you chain (E) and then immediately flash, W, or return from a W, the chain will still shoot towards wherever you aimed it. This is great for procking a mark (Q) at the last second.

Jukes:
-If someone is chasing you, W forward and keep running. Wait for them to chase for a bit (make sure they aren't at the return W) and return and run the opposite direction. Repeat as needed, not only will you distract the enemy, you will make them frustrated.
-Use your passive wisely. If you W into a group, wait for the invisibility to prock, then either flash away or return W. This leaves your clone in the teamfight, and enables you to reposition.
-Pretend to be the clone. If one enemy is running you down, send your clone to run away from them while you walk past them. There's no way a Leblanc would walk towards the enemy, so that must be the clone, right? Wrong. It's actually you, and it can save your life if they ignore the "clone" for the other one.

End notes: Thanks for reading! I will be updating this guide with more tricks, tips, and videos, and possibly even champion matchups. I am by no means a perfect LB player, but League is a learning experience for everyone.